Our Room Prices
All our Rooms & Suites are equipped with luxurious bathrooms, with a spacious bathtub (most) or a panorama shower room. All with a bidet and many with WC separate. They all blend in marvelously with the historic ambience of the castle. The high quality matresses make for a healthy sleep as well as the beds and beddings. LED flatscreen TVs, radio with Ipod-function, hairdryer and lit-up cosmetic mirrors, minibar and Wlan guarantee the most modern comfort within the historic walls.

Reception hours:

Mo - Thu      8.00am - 16.30pm
Wed - Sun   8.00am - 18.00pm

Check-In after closing of our reception will be via Self Check-In

If you have booked directly with us, you can cancel free of charge up to 48h before your scheduled arrival date. If you cancel within this period, you will pay the amount of the total price.
If you have booked via another platform or via a tour operator, the cancellation conditions stated there apply.
(Please note our changed cancellation conditions over the Christmas holidays until New Year).
Above prices are per person and per night.
Pets at the castle: Dogs are allowed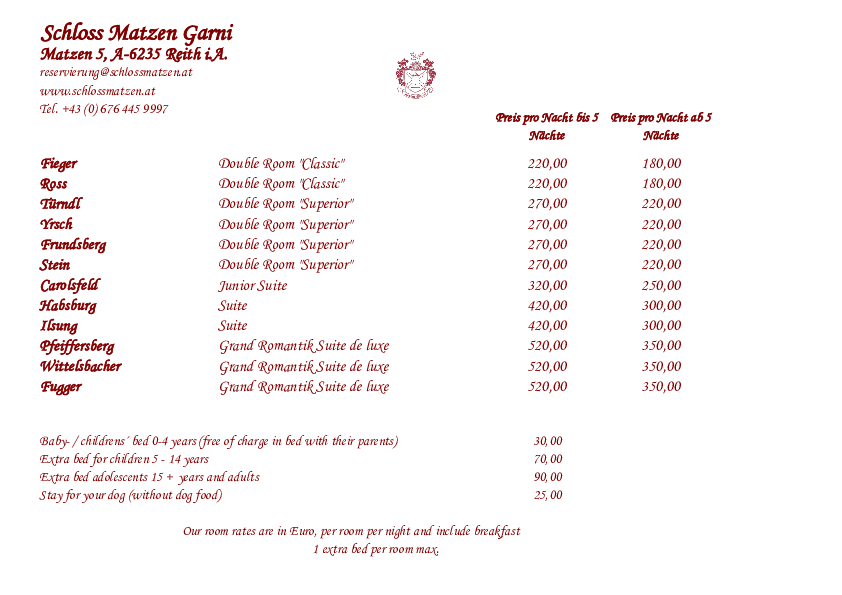 Please note our prices during the Christmas and New Year period: