Our Room Prices
All our Rooms & Suites are equipped with luxurious bathrooms, with a spacious bathtub (most) or a panorama shower room. All with a bidet and many with WC separate. They all blend in marvelously with the historic ambience of the castle. The high quality matresses make for a healthy sleep as well as the beds and beddings. LED flatscreen TVs, radio with Ipod-function, hairdryer and lit-up cosmetic mirrors, minibar and Wlan guarantee the most modern comfort within the historic walls.
Extra bed adults and adolescents from 15 years  € 90,00 (1 extra bed per room max.)

Reception hours:

Mo              8.00am - 16.30pm
Thu - Fr       8.00am - 18.00pm
Sa               8.00am - 15.30pm
Sun             8.00am - 13.00 pm

Check-In after closing of our reception will be via Self Check-In
Above prices are per person and per night.
Pets at the castle: Dogs are allowed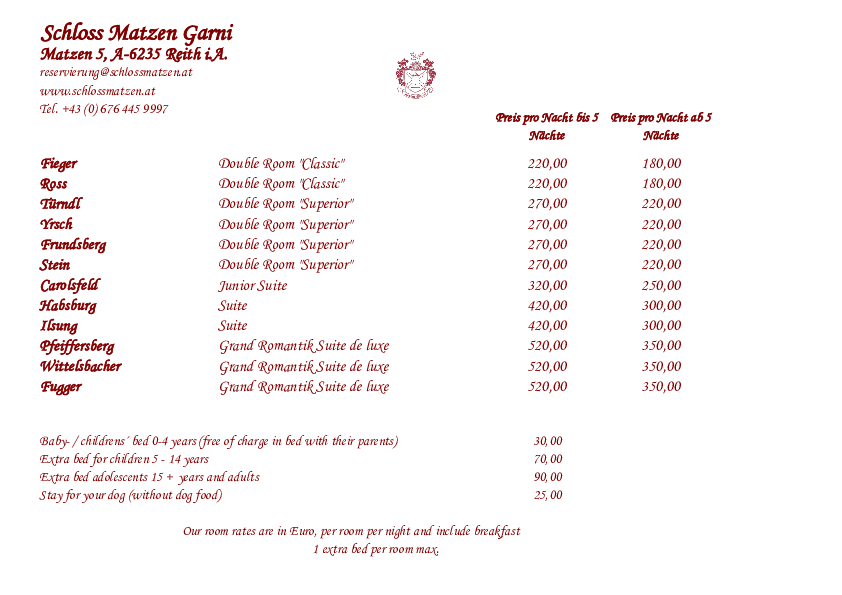 Please note our prices during the Christmas and New Year period: